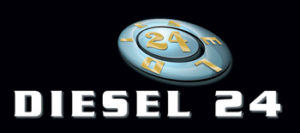 Our official partner is company Diesel 24 International, founded in 1994 and based in Klagenfurt, is a medium-sized fuel card issuer.Our basic product is an ISO certified fuel card, the Diesel 24 Card. The Diesel 24 fuel card can be used for the supply of fuel – primarily for Diesel and AdBlue at all partner filling stations, enabling our customers to fill up without cash.
Diesel 24 International operates eight of its own petrol stations in Austria, mostly unmanned, all of which are located on the main roads. Other partner fueling stations complete an extensive network coverage. Co-operations with various partners exist in more than 30 countries.
We see ourselves as a link between customers and station network operators, as an intermediary between East and West and as a full service provider for transport companies. Our core business is based in the Europe-wide supply of diesel and AdBlue to customers in the transport sector.
Diesel 24 International serves corporate customers from all over Europe. We are particularly well established in Eastern, Southeastern and Central Europe. We communicate with our clients in their native language and strive to provide immediate solutions. We give great importance to excellent service and prompt reaction times as well as quick decision-making processes.